Live Blackjack – Play Blackjack with Real Dealers online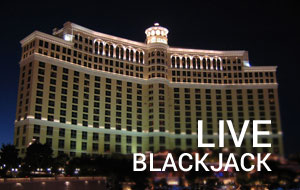 Live blackjack allows you to play from the comfort of your home while enjoying the atmosphere of a real land-based casino. The game uses a real life dealer, a person, instead of a random number generator to deal out the cards and control the game. The game is filmed live at one of the following two locations:
Live casino studio of the software provider
Land-based casino the software provider has an association with
The filmed images are then streamed live over the Internet for players to access on their computer.
Best Live Blackjack Online casinos For Real Money
Casino
Offer
Devices
Play Now / Review

100% up to $5000
(T&Cs apply, 18+)
New Customers Only, Gamble Responsibly

Play!

200% up to $1000
(T&Cs apply, 18+)
New Customers Only, Gamble Responsibly

Play!

up to $6000
(T&Cs apply, 18+)
New Customers Only, Gamble Responsibly

Play!

300% up to $500
(T&Cs apply, 18+)
New Customers Only, Gamble Responsibly

Play!

150% up to $10,000
(T&Cs apply, 18+)
New Customers Only, Gamble Responsibly

Play!

150% up to $3000
(T&Cs apply, 18+)
New Customers Only, Gamble Responsibly

Play!

150% up to $3000
(T&Cs apply, 18+)
New Customers Only, Gamble Responsibly

Play!

Deposit $20 , Get up to $8888
(T&Cs apply, 18+)
New Customers Only, Gamble Responsibly

Play!

up to $5500
(T&Cs apply, 18+)
New Customers Only, Gamble Responsibly

Play!

100% up to $500
(T&Cs apply, 18+)
New Customers Only, Gamble Responsibly

Play!

200% up to $1000
(T&Cs apply, 18+)
New Customers Only, Gamble Responsibly

Play!

100% up to $5000
(T&Cs apply, 18+)
New Customers Only, Gamble Responsibly

Play!

100% up to $777
(T&Cs apply, 18+)
New Customers Only, Gamble Responsibly

Play!

100% up to $1000
(T&Cs apply, 18+)
New Customers Only, Gamble Responsibly

Play!

1000% up to $4000
(T&Cs apply, 18+)
New Customers Only, Gamble Responsibly

Play!

300% Match up to $3000
(T&Cs apply, 18+)
New Customers Only, Gamble Responsibly

Play!
Have a look at the following video to see how blackjack works in live casinos. Video is funny but you will get the idea.
How and where to Play Live Blackjack
Live blackjack games are available under the Live Casino tab at online and also mobile casinos. To play live blackjack:
Register with or log in to (if you already have an account) an online casino offering live casino games and ensure your account has funds to play for real money.
Click the Live Casino tab and then click the live blackjack game you want to play.
Place your bets with the dealer.
The dealer then deals you and himself a hand of 2 cards each. His second card is the 'hole' card and is dealt face down.
Check your hand and then decide your next move. The options available include:

Hit: Use this option to strengthen your hand further and get to 21 or as close to it as possible by getting an additional card.
Stand: Literally, stand; take no additional cards. This is a good option if your hand is strong and close to 21. Of course, the dealer has the option of taking additional cards to bolster his hand and try to beat yours.
Split: This option is available when your first 2 cards have the same face value. You can split the hand into 2 individual hands that you play separately. You get 2 more cards – one for each hand. Some games allow you to re-split a hand.
Double down: You double your initial bet by a certain percentage (the maximum is 100%). In return you are dealt an additional card and must stand after that; you cannot take any more cards.
Insurance: This option is not available for all games. When available, you can use it if the dealer's first card is an Ace. You pay an additional wager – half of your original wager.

You win the insurance bet if the dealer's hand turns out to be a blackjack.
You retain your original wager.

Surrender: This option allows you to quit the game and get half your wager back. It is not available at all online or mobile casinos.

The dealer then makes his move and the hand with the value of 21 or closest to it wins.
Live Blackjack Rules
The rules for live blackjack may vary depending on the software provider behind the game. However, most of the key rules remain the same.
The payout for blackjack is 3 to 2 regardless of the software provider behind the game.
Most live blackjack games use 8 decks. NetEnt's live blackjack games use 6 decks dealt with a shuffling machine. You may also get games using 7 decks.
The dealer stands on hard and soft 17s. An exception is in games from Visionary Gaming, where the dealer hits on a soft 17.
Live blackjack games from Playtech, Evolution Gaming, Visionary iGaming, NetEnt, Global Gaming Labs, and Ezugi allow players to double down after they have split a hand. This option is not available in live blackjack games from Microgaming, Media Live, Extreme Live Gaming, Amaya, and other such providers.
Live blackjack games from all providers except Microgaming, SmartLive, and Media Live allow for doubling down on any 2 cards. Games from the above mentioned providers allow for doubling only on 9, 10, and 11.
None of the live blackjack games except those from Microgaming allow players to hit split Aces. Another exception is live dealer blackjack from SmartLive.
None of the live blackjack games from major software providers like Playtech, Microgaming, Evolution Gaming, NetEnt, Media Live, and Extreme Live Gaming allow re-splitting. Re-splitting is allowed up to 4 times in live blackjack from Portomaso. Smart Live's live dealer blackjack games also allow re-splitting.
The surrender option is not available in most of the live dealer blackjack games, the exception being in live dealer blackjack from Global Gaming Labs.
Types of Live Blackjack Games
There are two types of live blackjack games:
Personal live dealer blackjack: There are individual seats for players and this is more like a professional land-based casino set-up.

These are usually 7-seater games.
The player takes an empty seat at the table and places his bets.
The dealer then deals him the cards.
The player makes his moves based on the deal.
The player waits for other players at the table to make their moves.
The time by which the dealer makes his next move countering yours is 15 seconds usually.

Public live dealer blackjack: These are usually games with shared hands.

The dealer accepts bets from multiple players at a time.
Each player may wager a separate amount for a game.
The dealer then deals a single set of cards that the different players can use.
The dealer can deal up to 3 hands; the choice of how many hands to play remains with the player.
The decision to hit, stand, or make any of the other blackjack moves rests with the dealer; many casinos however allow players to make individual decisions regarding their moves.
Live Blackjack Software Providers
Almost every major online casino software provider today offers live blackjack games. We take a look at 4 top providers and the basic features in their games.
Live Blackjack vs. Online Blackjack
Live dealer blackjack is like online blackjack, but with a few major differences. We list these below.
The dealer is a real life person in live blackjack unlike the RNG in the online version.
Games are shot at live studios or land-based casinos and streamed live, so the feel is of an actual casino unlike in online blackjack.
Games are not available for free play usually as it means blocking a seat of a real money player. At online casinos you get the free play mode for blackjack.
Game play is slower in live blackjack because the dealer is a person and he takes more time to complete a game.
Betting limits are higher compared to online blackjack because of the higher overheads:

Purchase and maintenance of equipment and software
Maintenance of the live studio itself
Salaries of live studio staff
Live Blackjack (Online) FAQ
Live Blackjack FAQ – Everything You Want to Know
Live Blackjack is the most authentic type of Blackjack available online. It allows players to feel like they're in an actual casino while sitting at home.
What is Live Blackjack?
The name Live Blackjack refers to a special type of a Blackjack game which is played online, on a computer, tablet or a smartphone, but unlike other online games, players get to play against an actual, human dealer, and they could communicate with the dealer, and with the other players (if the table in question can fit multiple players). Players who have an active account at an online casino that offers live Blackjack, can go to the live casino section, choose a Blackjack table and start playing without any obstacles.
What is the difference between Live Blackjack and regular online Blackjack?
The main difference is that online Blackjack is powered by software and there's a random number generator which provides the fairness and randomness of the game. Whereas live Blackjack is played against a live dealer, with actual cards, in real time. The dealer is filmed and the recording is broadcasted simultaneously, via live stream. The players can actually see the dealer draw and deal the cards and that way they can be certain that the game is entirely random.
What is the difference between Live Blackjack and regular Blackjack at a land-based casino?
Basically, there isn't any difference in terms of how it works, the pay-outs and everything else regarding the gameplay. If you play standard 6-deck Blackjack where the dealer stands on soft 17, for example, everything will be the same. The only difference is the fact that you can play live Blackjack from anywhere, as long as you have a stable internet connection and an active online casino account, whereas if you want to play at a land-based casino, you'll have to visit the location in person. Most online casinos hold their live Blackjack games in an authentic casino environment.
Where do Live Blackjack games take place?
There are multiple locations in the world where live casino games are filmed and from where they are streamed, so that players from all over the world can participate. In most cases the games are held in studios, similar to TV studios, where the whole background, the layout of the Blackjack tables and the clothes worn by the dealers are designed to match actual casinos. In an attempt to make the games look even more realistic, some operators held their live Blackjack games in actual, existing online casinos.
What Blackjack variants can I play live online?
There are multiple Blackjack variants that are offered live by online casinos. Moreover, at many online casinos players are also able to choose between tables that have different minimum and maximum wagering limits, much like in a land-based casinos. Some casinos offer live Blackjack games that are held at different locations throughout the world, so you will have the opportunity whether you want to compete against an Asian or a European dealer, for example, or even play a version where the dealer is wearing playboy bunny costume, instead of a traditional uniform.
Are there any bonuses which will be available if I play Live Blackjack online?
Yes, most online casinos make their Welcome Bonuses, be they No Deposit of First Deposit bonuses available to all players, including those that want to play live casino games such as live Blackjack. Moreover, some operators offer special bonuses aimed at live Blackjack players only, so you could either get a chance to have a go at live Blackjack without risking any of your own money, or get an extra amount of money that you will be able to wager on live Blackjack in addition to your original deposit.
Will I be able to play Live Blackjack on my smartphone?
Yes, most operators allow players to play Live Blackjack on their smartphone or tablet. The stream is usually adjusted and it is optimized to fit the size of your screen. In most cases, you'll just need to log in to the casino website on your mobile device, just like you would on your PC and choose the game that you want to play, in this case live Blackjack. Some operators offer a special live casino app, which can be downloaded for free. These apps provide an even better gaming experience as they are designed particularly for live games.
Can I apply the Blackjack basic strategy when I play Live Blackjack online?
Yes, you can and it is even easier to apply the strategy when you're playing live Blackjack. Namely, you can open another tab, a Word document, or another document on your computer when you have the full basic strategy, either as a table or as a tax, or if you like, you can keep a hard copy of it next to your screen. The point is that you won't even have to remember it and know it by heart, you can just check and be confident about your every move.
Are there any Live Blackjack games which are played with one deck?
One deck Blackjack variants significantly decrease the house edge, i.e. are a lot more favorable for the player. That is why casinos generally avoid offering them. Casinos that offer live Blackjack are no exception and it is very hard to find a one-deck live Blackjack game. In most cases live Blackjack games are played either with 6 or with 8 decks. The cards are usually placed in a card shoe, just like at regular land-based casinos.
Can I play Live Blackjack for free, to practice?
Most online casino operators don't offer a free version of their live casino games, and that applies to live Blackjack as well. The logic is that a player who plays for free should not be able to take the seat of a player who intends to play for real money. However, you might be able to find a casino that does offer live Blackjack in practice mode. If not, most casinos will allow you play their regular online Blackjack games in practice mode, or watch the players who are playing live Blackjack.
Resources: