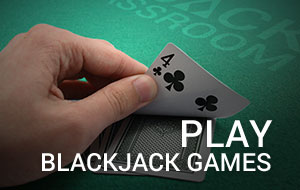 Blackjack is one of the most exciting games you can play at a casino. It doesn't matter whether you are playing it at a land-based casino, online casino, or mobile casino: the experience is unique because the game is not just all luck; you need a certain level of skill as well to win more often.
You play blackjack against the dealer; not against other players. The objective of the game is simple: to beat the dealer's hand by putting together a hand with a total value of 21 or as close to it as possible. Your hand is busted if its total value is over 21, in which case the dealer wins. In some variants, the dealer automatically wins with a blackjack hand, while in some games a blackjack hand for the dealer and the player leads to a push. The card values are easy to remember too:
Face value for cards 2 to 10
10 points for the Jack, Queen, and King
1 and/or 11 points for the Ace
Hit: Pick an additional card to strengthen your hand. You can pick extra cards as long as the hand value does not cross 21.
Stand: Leave your original hand as is and do not pick any more cards. This move is good to opt for if:

You have a strong hand.
You have a hand whose value is moderately close to 21 and drawing another card brings with it the risk of busting. A good example is a hand valued at 17 or more: the online casino automatically pops a message asking you if you are sure you want to hit if you opt to do so for such a hand.

Double down: You double your initial bet and then draw a card. After drawing the card you must stand.
Split: You split a hand with 2 identical-value cards into 2 separate hands. You then play the hands separately and place additional bets for the split hands. Some casinos allow re-splitting of a split hand as well.
Surrender: You quit your hand and lose half your wager. You can opt for this move if you see a strong dealer hand.
Some blackjack games offer the Insurance bet if the dealer's face card is an Ace. If you opt for the Insurance bet you place an additional wager but are guaranteed half your original back in case the dealer's hand is a blackjack.
The game is popular across the world, which is why you have multiple variants. You get a large number of variants; but not all variants are available at all casinos. Especially when it comes to online casinos, the variants available depend a lot on the software powering the casino. We list out and analyze for you a range of popular blackjack games. Along with game variants we also review a few of the popular side bets that are available to blackjack players. The games we analyze for you include:
The different side bets we have for you include:
For each game we provide:
A brief introduction to the game
How it is different from regular blackjack
Rules governing the game
How to play the game
Strategy you can employ
Hand charts you can employ
Charts discussing the house edge variations, especially for the side bets
Resources: