Thunder Valley Casino Blackjack Review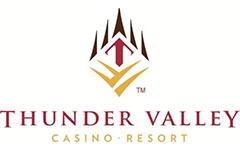 Thunder Valley Casino
---
Address

1200 Athens Avenue, Lincoln, CA 95648
Phone

877-468-8777
Age Requirement

21+
Hotel / Resort

Yes
Website
Thunder Valley is a large casino resort located in the vicinity of the small town Lincoln in North California. Lincoln is about 30 miles northeast of Sacramento. The United Auburn Indian Community owns and runs this casino. Thunder Valley was established in 2003.
Thunder Valley is 275,000 square feet large, more than half of which (144,500) is gaming area. The hotel has 300 rooms and the resort features a number of restaurants, including High Steaks and Peet's Coffee & Tea. Moreover, there is an entertainment hall which is suitable for 1,000 people. Moreover, there's a sauna, a steam room and a health club. In the period 2003-2010 Thunder Valley was operated by Vegas gaming operator Station Casinos.
Casino Offer
The casino at Thunder Valley features a large number of slots, more than 200 video pokers, more than 15 table games, including few varieties of Blackjack, poker tournaments. It is also possible to play bingo. Thunder Valley casino offers a range of promotions and bonuses, as well as VIP gaming.
Blackjack at Thunder Valley
As for Blackjack, not only will you find Blackjack games with different number of decks, but there are also several rare and intriguing varieties of the game that you won't find elsewhere.
6-Deck Blackjack
This is standard six-deck Blackjack, where the player is allowed to double on any two cards and to double after splitting, but there's no surrender option and you can't re-split aces. The dealer hits on soft 17. The house edge for this variant is somewhat higher than what you might find elsewhere, at 0.62%. The minimum table limit is $10, whereas the maximum is $3,000.
Double-Deck Blackjack
Multi-Deck Blackjack
This version is played with multiple decks and the cards are shuffled continuously. The dealer is supposed to hit on soft17, just like in the other Blackjack versions in this casino, the player is allowed to double on any two cards and to double after splitting, but re-splitting aces and surrendering isn't permitted. The house edge is 0.61%, whereas the table limits are $10/$1,000.
Bet'Em All Blackjack
Bet'Em All Blackjack is one very thrilling variation, where you get to place additional bets on the hands of other players. There are two such tables. In order to bet, you need to place your chips on the blue like which has the seat number of the player you'd like to bet on. If you suspect that a player is particularly successful, you can try and 'steal' a bit of their luck. The rules are pretty much the same, Blackjack pays 3:2 and the dealer is supposed to hit a soft 17. In this version you can double down on all wagers and you are allowed to take insurance.  Bet'Em All tables are marked with a special sign.
Blackjack Switch
Blackjack Switch is a variant that gained popularity over the years. Here the players are dealt two hands and they are allowed to switch the second card of each of those hands in an attempt to make the hand better. Because this makes the game a lot more favorable for the player, additional rules are introduced. A dealer's hard 22 is a push instead of a bust and the Blackjack pays out only 1 to 1.
Thunder Valley's Blackjack Switch offers an extra side bet, called Blackjack Buster. It is a bet that is activated when the dealer busts and the payment is according to a table. Players can be from $1 to $25 of the side bet.
Free Bet Blackjack
Free Bet Blackjack is a variation when you are allowed to double and split for free, i.e. you don't need to place an extra wager. Whenever you choose the free bet options, the dealer puts a special sign next to your original wager. If you win the hand you're paid just as if you actually split or doubled, even though you didn't bet any extra money. Doubling down is available on any hard 9, 10 or 11 and doubling after splitting is allowed, provided that the new hands are either 9, 10 or 11.
As this significantly lowers the house edge, any dealer's hand that is a hard 22 is considered a push. There's an extra side bet called Push 22. If you bet on it, you win only when the dealer's final hand is a hard 22 and every other result ends in a loss of the side bet.
Spanish 21
Spanish 21 is a special Blackjack version and its 'specific difference' is that the player's Blackjack is valued more than the dealer's Blackjack. That means that whenever both you and the dealer hit Blackjack or reach 21, the game doesn't end in a push, but in a win for you. In this version it is possible to surrender and double down.
There's also a special Match the Dealer bet. The Double Down Rescue bet allows you to save the last part of your double down, in the case when you're not satisfied with the cards that you've been dealt. With the Super Bonus you can win up to $5,000 if your two cards and the dealer's face up card are suited 7s. The Super Bonus isn't paid out when you've doubled or split.
Due to the fact that the above described rules favor the player, the 10s are removed from the decks, which increases the house edge.
Card Counting at Thunder Valley
If you're planning on counting cards at this casino, then you should definitely choose the double-deck variant. Don't be fooled by the fact that doubling down is only allowed on 9, 10 and 11, this game still offers the best house edge. Furthermore, Thunder Valley offers very favorable dealer penetration on its double-deck game. Card counting at the six-deck variants would be a lot more difficult, as the dealer penetration isn't in your favor here.
Conclusion
In terms of game variety, Thunder Valley is really one of the best casinos, not only in Northern California, but in the state as a whole and beyond. There are quite a few versions that you won't be able to find elsewhere, and the table limits are flexible enough. Moreover, it is easier to be successful at card counting compared to some other casinos. Definitely a good choice.
Double Deck Blackjack
Table Limits: $25 minimum – $3,000 maximum
Blackjack Rules: dealer hits on soft 17 (H17), double down only on 9, 10 or 11, player may double after split, no resplitting aces (RSA), no surrendering
6 Deck Blackjack
Table Limits: $10 minimum – $3,000 maximum
Blackjack Rules: dealer hits on soft 17 (H17), double any two cards, double after splitting allowed (DAS), no resplitting aces (RSA), no surrender
Multi-Deck Blackjack with Continuous Shuffle
Table Limits: $10 minimum – $1,000 maximum
Blackjack Rules: dealer hits on soft 17 (H17), double any two cards, double after splitting allowed (DAS), no resplitting aces (RSA), no surrender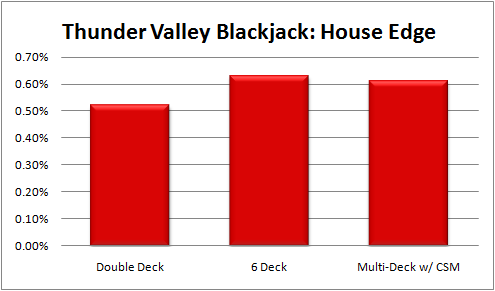 Card Counting at Thunder Valley Blackjack
There is absolutely no question that the best blackjack at Thunder Valley is the double deck. Although they limit doubling down to 9-11 only, these games have the best double deck dealer penetration in all of California. Most tables at Thunder Valley deal from a continuous shuffle machine, so be sure to avoid those if you're counting cards. Card counting will also be ineffective on the regular 6-deck shoes due to the poor penetration on the shoe games. Double deck is clearly the way to go!