Mohegan Sun Casino Blackjack Review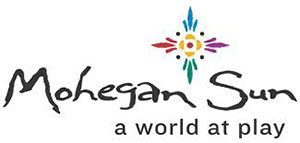 Mohegan Sun Casino
---
Address

1 Mohegan Sun Blvd, Uncasville, CT 06382
Phone

1-888-226-7711
Age Requirement

21+
Hotel / Resort

Yes
Website
Mohegan Sun is one of the largest casino resorts, not just in Connecticut and the East Coast, but in all of US. The resort was opened in 1996 and was renovated in 2001 and 2002. The hotel has over 1,350 rooms and some very popular restaurants like Michael Jordan's Steakhouse are incorporated in the resort. Home games of the WNBA team Connecticut Sun are played in the resort, at the Mohegan Sun Arena which has a capacity of 12,000 seats.
The gaming space at Mohegan Sun is quite large, at 364,000 square feet, whereas the total size of the resort is 240 acres. Mohegan Sun employs about 10,000 people, most of which come from the neighboring area. The casino has a Native American theme and is owned by the Mohegan Tribal Gaming Authority. Even the playing cards at the casino have a tribal theme. From a while ago the Mohegan Sun also hosts the popular Comix Comedy Club.
More than 350 Tables
Mohegan Sun offers a range of table games, including Craps, Roulette, Baccarat and 3-Card Poker. There are over 350 tables and the Poker Room features additional 40 tables. Sports betting is also available and there are around 6,500 slot machines.
Blackjack at Mohegan Sun
Blackjack is one of the most popular games at the Mohegan Sun and that is reflected in the number of tables. Namely, this casino features 116 Blackjack tables, with different wagering limits, designed to suit the needs of every player. If you visit the Casino of the Sky, one of the most popular casinos within the resort, you'll be able to play Blackjack with just as little as $5.
6-Deck Hit on Soft 17
Six-deck Blackjack where the dealer hits on soft 17 is one of the most common Blackjack variants. The one offered at Mohegan Sun allows players to double after splitting. It is also possible to surrender, but ace re-splitting is not permitted. The house edge for this version is about 0.55%. The good thing about this variation is that you will get quite low minimum wagering limits, at either $5 or $10, whereas the maximum wager is $500, which means that it is not the most suitable game for high-rollers.
6-Deck Stand on Soft 17
Spanish 21
Spanish 21 is a unique and original version of Blackjack played with decks consisted of just 48 cars, where the 10s have been removed. The removal of the tens significantly increase the house edge and makes the game less attractive, as it is more difficult to win and that is why some other rules are altered to compensate for it and make the game more favorable for the players.
In this particular variant, the dealer has to stand on soft 17, the players are allowed to re-split aces, to surrender and surrender after double and to double after splitting. Moreover, one rule, unique to Spanish 21 is that if the player has 21 it is considered a stronger hand than a dealer's 21 and when both have 21 it is a win for the player and not a push.
Spanish Blackjack also has an interesting side bet, where you can win if you have the same card as the dealer's face-up card. This side bet has a house edge of about 3%, which is more than the base game, but at the same time, it is one of the Blackjack side bets with the lowest house edge. The minimum table limit for this game is $10, whereas the maximum is $1,000.
Card Counting at Mohegan Sun
The Mohegan Sun isn't the perfect choice if you're planning on counting cards, as the dealers tend to place the cut card near the middle of the shoe. Typically you can't expect to see more than three decks in a six deck game. That means that you won't be able to benefit greatly from card counting here.
However, one good thing about this casino is that it has a pretty large number of tables, so you will be able to migrate and perhaps you'll manage to find a dealer who doesn't cut the cards as often. If you play as part of a group, you might have more success, as there is an option of mid-shoe entry at some of the tables that have lower limits. Due to the fact that the dealers are instructed to cut the cards more often, you are not likely to be followed around.
Conclusion
Mohegan Sun is not only of the largest, but also one of the greatest casinos on the East Coast. Blackjack fans have every reason to be satisfied, as this is one of the few casinos that features more than 100 tables. There are three varieties and reasonably low Mohegun Sun Blackjack minimum table limits, which makes this casino perfect for beginners and people with smaller bankrolls.
Mohegan Sun Blackjack Rules
6 Deck Blackjack (S17)
Table Limits: $10/$50/$100 minimum – $1,000/$10,000 maximum
Blackjack Rules: dealer stands on Soft 17 (S17), double after splitting allowed (DAS), no resplitting aces (no RSA), surrender allowed
6 Deck Blackjack (H17)
Table Limits: $5/$10 minimum – $500 maximum
Blackjack Rules: dealer hits on Soft 17 (H17), double after splitting allowed (DAS), no resplitting aces (no RSA), surrender allowed
Spanish 21
Table Limits: $10 minimum – $1,000 maximum
Blackjack Rules: dealer stands on Soft 17 (S17), double down after split allowed (DAS), resplit aces (RSA), surrendering offered, surrender after double offered, a player's 21 beats the dealer's 21, various bonuses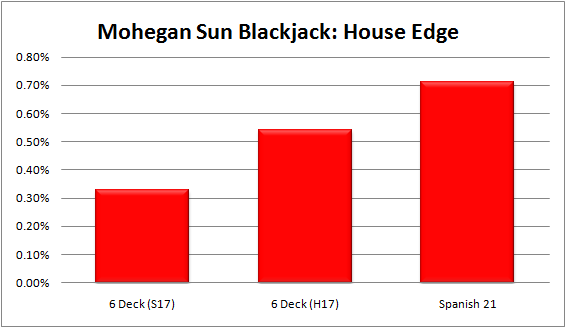 * The taller the RED bar, the worse your odds are.
Card Counting at Mohegan Sun Casino in Connecticut
Card counting at Mohegan Sun takes some work since the dealer penetration isn't great. The best strategy for counting cards would be to use a team to take advantage of mid-shoe entry being allowed on the lower limit tables. If you're going to be a solo card counter at Mohegan Sun, be sure you're aggressively backing out of negative shoes and consistently moving to fresh tables. The best thing about Mohegan Sun is that there are plenty of tables to hop around on. The casino is huge!